BERNINA Q-matic
Click the Request A Quote button below and fill out the form.
Request A Quote
---
Purchase from gather here and receive:
Lifetime machine support
Free machine owner classes
Experience the Q-matic TODAY!
Call us at (617) 714-4880 with any questions or drop by the store to learn more.
Special in-store pricing is often available.
---
Longarm Quilting Automation System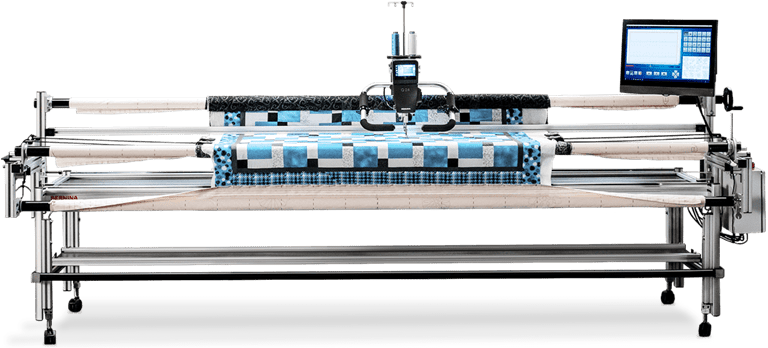 Touch PC mounted to the side of the frame
Commands at your fingertips
Art & Stitch and WiFi included
One-touch quick belt release system
More than 600 designs included
Discover BERNINA's state-of-the-art system for automated quilting
Quilting has never been easier
Automated quilting in just a few simple steps
Plan your quilt in every detail with ease
Stitch out simple edge-to-edge designs or intricate custom patterns
Multiple on-demand help functions for assistance in every step of creating and placing your quilting designs.
Commands at Your Fingertips
Easy access of all features
Change parameters with a fingertip
Different view options for a perfect quilt layout
Direct, one-click-access of all features: layout your quilt, alter designs, place designs and control the stitch out.
Freehand Quilting Any Time
You decide: Automated or freehand quilting
With one-touch quick belt release system
Beautifully combine digitized designs with free-hand work
Changing from automated quilting to free-hand work is easy as counting 1 … 2 … 3 due to the one-touch quick belt release system.
---
View the BERNINA Q-Matic product brochure
---
Learn to Longarm Quilt in our Spacious Studio:
gather here is the only BERNINA Excellence Dealer in the Massachusetts with the opportunity to rent BERNINA Q-Series longarm machines. Expand your quilting skills and build your confidence in Longarm Basics, a required class to rent the Q 20 & Q 24.
Q 24 rental is $20/hour. Learn more about our rental policies and procedures.
<!- CALLED FROM collection pages -->
---